Popular Benidorm Golf Courses

Golf is a popular sport in many countries. Golf is played particularly on golf courses which are designed to suit the nature of the game. There are normally 9 or 18 holes depending upon the area of the golf course. The popularity of the game can also be seen in Spain. If you are golf enthusiast, head to play at one of these golf courses in Benidorm.
Las Rejas Open Club, Benidorm-
It is situated in the Alicante province. It is 9 hole golf course in Poniente beach.
Villaitana Golf Club-It is situated at two locations, namely the Poniente and Levante. Both of the locations are close to the mountains and give a splendid experience to those who play golf here.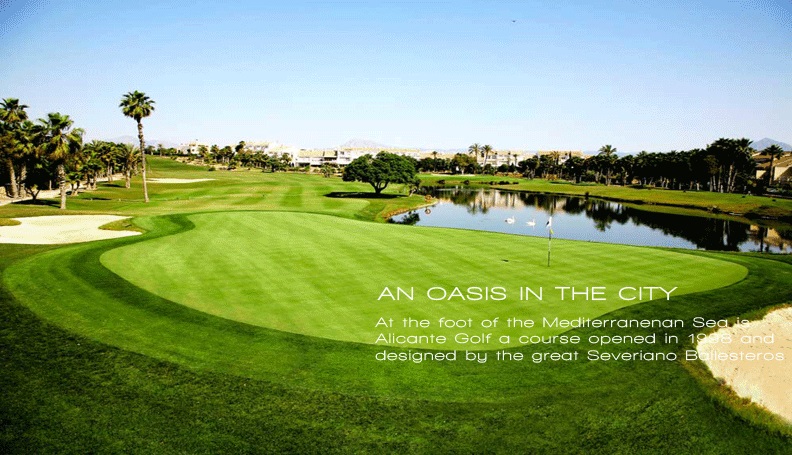 Alicante Golf Club (photo above)-
The golf course has 18 holes and it is spread over a vast area.
Address- Avenida del Parque, Playa de San Juan, 03540, Alicante, Costa Banca, Spain
Telephone- +34 96 5152 043
Alenda Golf Club-
The club has a golf course with 18 holes. It is situate near the mountains which provides for an all together breathtaking experince. The club also has a restaurant where one can relax after playing golf.
Address- Monforte del Cid, Alicante, Costa Blanca, Spain
Telephone- +34 96 5620 521
Bonalba Golf Club
Address: Casa Club Bonalba, Partida de Bonalba, Mutxamel, 03110, Costa Banca, Spain
Tel: +34 96 5955 955
Bonalba Golf Club is known for its magnificent sea views and features a par 72 course, with 18 holes, wide fairways, a driving range, large lakes and greens for practicing.
Open hours: daily - dawn to dusk
Don Cayo Golf Club
Address: Urbanización Sierra Altea Golf, Buzón 341, Altea la Vieja, 03599, Costa Banca, Spain
Tel: +34 96 584 8046
Located at the foot of the stunning Sierra Bernia mountain range, the Don Cayo Golf Club opened in the mid-1970s and features many challenging holes and views of the coastline.
Open hours: daily - dawn to dusk