The Plaza Mayor of Salamanca, Spain Video
Overview
Salamanca in Castile & León is one of the most popular choices among tourists with its traditions, rich historical and artistic heritage, its Villamayor stone and its lively atmosphere. Salamanca is the capital city of one of the nine provinces making up the Autonomous Community of Castile & León located in the west inland Spain.

Salamanca is one of the most popular choices among tourists in the inland Spain. It is also a city of the students. The humanist tradition, lively atmosphere, rich historical and artistic heritage and the color of its Villamayor stone has made the city earn the UNESCO title of World Heritage City in 1988. Also it was chosen as European Capital of Culture in 2002. The Plaza Mayor is the most popular sight of the city.

Things to Do and See in Salamanca
The places of interest in Salamanca include;
The Old Quarter (Plaza Mayor, Church of San Martín, Casa de las Conchas, Iglesia de la Clerecía Church, Church of San Benito, Universidad Pontificia, University, Escuelas Menores, Museo de Salamanca, Casa-Museo Unamuno, New cathedral, Old cathedral, Palacio de Anaya, Church of Santiago, Bull and Roman bridge, Masonic Lodge, Garden of Callisto and Melibea, Cueva de Salamanca, Convent of San Esteban, Church of St. Thomas of Canterbury, Palacio de Orellana, Bullfighting Museum, Church of San Marcos, Ursuline Convent and Museum, Iglesia de la Purísima Church)

Plaza de San Benito

Plaza de las Agustinas

Calle Prior

Museo de Arte Sacro (sacred art)

Museo de Salamanca (fine arts)

Palacio de la Salina

Museo de Art Nouevau y Art Deco
Cuisine ~ What to Eat


The favorite dishes of the Salamanca cuisine include; hornazo, a pasty filled with pork sausage; minced pork seasoned with paprika; and the famous stew known as chanfaina. Salamanca is best known for its sausages, Guijuelo ham, beef and lamb, lentils from La Armuña, beans and chickpeas. As for the desserts nougat, bollo maimón, aranjules, floretas and repelaos are the popular ones.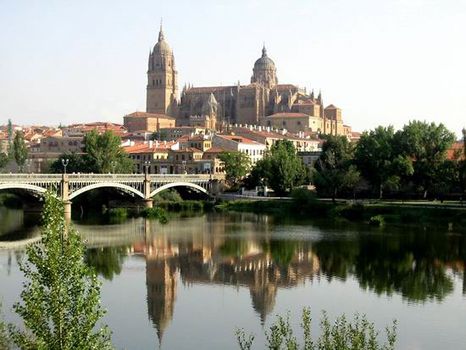 Handicrafts ~ What to Buy
Arts and crafts take the lead in Salamanca. They range from leather goods such as wineskins, saddles, chaps and bags to embroidery and ceramics where floral and animal motifs are very much in evidence. In addition, filigree work in silver and gold that is used in the making of the famous buttons, earrings and shells are also Salamanca's traditional favorite handicrafts as well as the stone-carving, cowbells and basketry.

Cultural Events & Fiestas in Salamanca
Lunes de Aguas at the first Monday after Easter.

San Juan de Sahagún in June 12.

Mercado Colombino in September.

Cattle Fair at the first week in September.

Fiesta of Virgen de la Vega, the patron saint of Salamanca in September 8.

Fiesta of San Mateo in September 21.

Fiesta of El Mariquelo. Climbing to the top of the cathedral tower in October 31
Getting There
Access to Salamanca is easy. The city is situated on the Spain's northern axis that is linking the French border to neighboring Portugal. National Road 620 (E-80) runs westwards towards the Portuguese border (113 km) and eastwards towards Valladolid (112 km). The main north-south artery is formed by National Road 630 (E-803) runs up towards Zamora (62 km) and down to Extremadura and southwest of Spain. From the National Road 501 running to Ávila (97 km), it is also possible to link up with National Road VI and go Madrid (212 km). As for the train, there is a direct connection with Madrid via Ávila and with Valladolid and northern Spain. As for the plane, the city has its own airport of Salamanca Airport or the relatively near airports of Valladolid and Madrid.
Salamanca Useful Telephone numbers
Oficina Municipal de Turismo de Salamanca
Plaza Mayor, 32
Phone: +34 902 302 002, +34 923 218 342
Fax: 923 21 83 42
www.salamanca.es

Information Office and Shop
Phone: +34 923 28 10 70

Oficina de Turismo de la Junta de Castilla y León
Casa de las Conchas, Compañía, 2
Phone: +34 923 268 571
Fax: +34 923 26 24 92

Patronato Provincial de Turismo de Salamanca
Plaza Mayor, 32, 1º, 8
Phone: +34 923 272 408
Fax: + 34 923 272 407

Temporary Tourist Information Point (at the bus station) - Filiberto Villalobos, 71
Temporary Tourist Information Point (at the railway station) Temporal "Vialia" Paseo de la Estación
Centro de Iniciativas Turísticas
Plaza de los Sexmeros, 2
Phone: +34 923 211 797 (Ext. 109)

Bus Station
Filiberto Villalobos, 71
Phone: +34 923 236 717
Railway Station
Paseo de la Estación
Phone: +34 902 240 202
www.renfe.es
Matacán Airport
Carretera de Madrid, km. 14, 37893 Machacón
Phone: +34 923 329 600
www.aena.es