Overview
Cuenca in Castilla-La Mancha in the center of Spain is one of the peninsula's oldest cities. Situated in the region known as Cordillera Ibérica, Cuenca is located at a high altitude of 999 mt. in a great mountain air.

Strolling through the steep and narrow streets; visiting the monuments and museums, resting in secluded spots; drinking from the fountains; experiencing the magic of the squares; enjoying the town's culinary delights such as morteruelo, ajoarriero, zarajos, alajú and first-class wine from La Mancha are some of the best attractions of Cuenca.

Things to Do and See in Cuenca
The places of interest in Cuenca include;
Castle, Provincial Historical Archive

Cathedral

Hanging Houses (Abstract Art Museum)

Convent of San Pablo (Parador)

Plaza de la Merced

Santuario de la Virgen de las Angustias Shrine

Iglesia Virgen de la Luz Church

San Pedro Church

Church of San Felipe Neri, City Hall, Hospital de Santiago, Concepcionistas

Casa Zavala

District of San martin, Skyscrapers

Abstract Art Museum

Diocesan Museum

Cuenca Museum

Science Museum

Arts and Crafts Centre
City Tours in Cuenca
The city tours to participate and discover the Cuenca include;
The Day Tour

- Itinerary: Plaza Mayor-Cathedral-City Hall, Plaza de la Merced, Torre de Mangana, Calle Alfonso VIII, District of San Martín, Church of Santa Cruz, Bridge of San Pablo, Parador, Ronda Julián Romero, Plaza del Trabuco, Arco de Bezudo, Castle District, Church of San Pedro, Calle San Pedro, Plaza San Nicolás, Plaza Mayor.

Walking Tour at the Cuenca uplands - A 10-12 hours tour through the most spectacular landscapes and beauty spots in Serranía Alta de Cuenca.

Tour of the Castles, emblazoned houses and mighty giants - A 12-14 hours tour along the La Mancha's plains and hilly woodland areas.

Tour along the roads of La Manchuela - A 9-12 hours tour in the easternmost part of the vast region of La Mancha; La Manchuela.
Cuisine ~ What to Eat


The main features of the Cuenca cuisine include; hearty dishes, red meats, good wines and toothsome confectionery accompanied with delicious liqueurs. The most famous dishes are; Morteruelo, the dish is made from pig's liver and bread; Zarajos, a skein of lamb suckling's intestines wrapped round vine branches, roasted over an open fire and then sliced; Gazpacho pastor, the dish with an omelette-like appearance with unleavened bread, diced hare's and hen's meat, salt, pepper and paprika; Ajoarriero, the dish made from a well-beaten mixture of potatoes, cod, breadcrumbs, boiled eggs and a soupcon of garlic and oil; Pisto, fried vegetable hash; Lamb hotpot; Migas ruleras that is based on breadcrumbs and white beans with partridge. As for the desserts; almonds, mantecados, suspiros de monja, torrijas and alajú made from honey, dried fruit and nuts, cinnamon and orange and lemon zest and then covered in wafers. As for the drinks, Cuenca produces a wide variety of reds, rosés and whites as it is one of the world's largest winegrowing region. Also Cuenca has a prime-quality cheese which carries the manchego denomination of origin.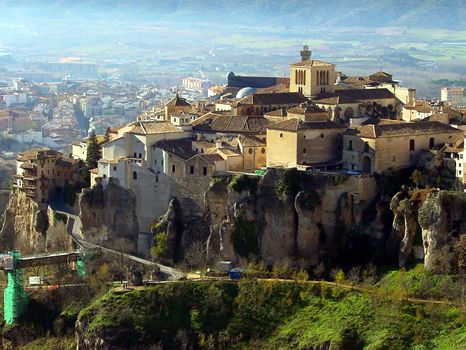 Handicrafts ~ What to Buy
The Iberian bull is the greatest artisanal symbol of Cuenca. A replica of a drinking vessel kept at the Museum of Cuenca and reproduced all over the area as well as the famous bottles with their stylized necks are the spots of the handicrafts in Cuenca. Ceramics is also the best in Cuenca. Traditional arts and crafts, woolen articles and handmade paper are also popular. The Arts and Crafts Centre (Centro de Artesanía Iglesia de Santa Cruz) is an exhibition area of the town where travelers can find ceramics, leather goods, glassware, handmade toys, original jewellery to wrought iron articles, paper ornaments, embossed tin and silverware and wickerwork.

Cultural Events & Fiestas in Cuenca
Fiesta of San Julián - Patron saint of the city held in January 28

Jueves Lardero on the Thursday before Ash Wednesday

Holy Week in March-April. An Event of International Touristic Interest

Religious Music Week held during Holy Week. An Event of International Touristic Interest

Autonomous Community Day in May 31

Fiesta of La Virgen de la Luz. Patron saint of the city held in June 1

Mediaeval Market in July

Local holidays on the 2nd fortnight in August

Provincial Arts and Crafts Fair at the end of August

Naturama in September

Fiesta of San Mateo in September 18 to 2. A Fiesta of Regional Touristic Interest

Regional Book Fair
Getting There
Access to Cuenca is easy. There are many convenient ways to get to Cuenca with a series of national roads connecting it to some of the main cities in the central and eastern areas of Spain. The National Road 320 links Cuenca with Valencia (199 km) to the south; with Guadalajara (136 km) to the north. The A-40
Expressway that is going to Tarancón links up to the west with the A3 in the direction of Madrid (169 km) and continue to Toledo (182 km). The 420 goes to the interior of the Autonomous Communities of Castile-La Mancha and Aragón. Cuenca's railway station is situated on the Madrid-Valencia line. There is also a intercity bus services operating daily from Madrid to Valencia; also to Barcelona, Teruel, Toledo, Albacete and Ciudad Real. The nearest airport is Madrid Barajas Airport (150 km) and the Valencia Manises Airport (195 km) and Albacete Airport (135 km).