As for spa hotels in Costa Brava; the whole Costa Brava-Pirineu de Girona region is in itself a great destination for spas, thermal waters, health and relaxation.

Visitors may find here numerous specialist health and beauty establishments. There are three popular health spas in Costa Brava located in Caldes de Malavella (two spas) and in Santa Coloma de Farners, in the La Selva district.

Apart from these classic spas, there are also numerous spa and wellness hotels and resorts in Costa Brava that are providing health and wellness tourism.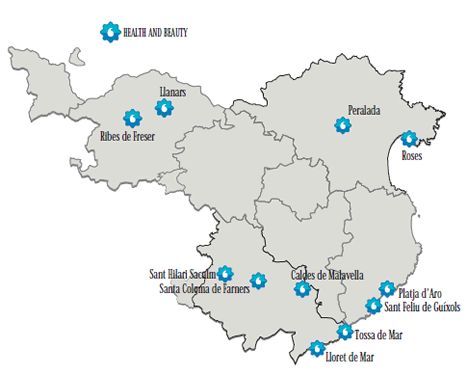 Spa Hotels in Costa Brava
Balneari Prats
Pl. Sant Esteve, 7
17455 Caldes de Malavella
Tel. +34 972 470 051
www.balneariprats.com

Balneari Termas Orion
Veïnat de Vall, s/n
17430 Santa Coloma de Farners
Tel. +34 972 840 065
www.balneari-termas-orion.com
Balneari Vichy Catalán
Av. Dr. Furest, 32
17455 Caldes de Malavella
Tel. +34 972 470 000
www.balneariovichycatalan.com

Hotel Balneari Font Vella
Passeig de la Font Vella, 57
17403 Sant Hilari Sacalm
Tel. +34 972 868 305
www.balnearifontvella.cat
Health & Wellness Centers in Costa Brava
Institut Gem
C/ Josep Maria Sert, 16-18, 17310 Lloret de Mar
Tel. +34 972 347 004; www.institutgem.com
Thermal Leisure Centers in Costa Brava
Magma
Veïnat de Vall, s/n, 17430 Santa Coloma de Farners
Tel. +34 972 843 535, www.magma-cat.com
Spas in Costa Brava
Wine Spa Hotel Golf Peralada
C/ Rocabertí, s/n
17491 Peralada
Tel. +34 972 538 830
www.golfperalada.com

Dynamic Spa Beach Center-Gran Hotel Reymar
Platja de la Mar Menuda, s/n
17320 Tossa de Mar
Tel. +34 972 340 088
www.ghreymar.com
Hotel Spa Terraza
Pg. Marítim, 16
17480 Roses
Tel. +34 972 256 154
www.hotelterraza.com

Guitart Gran Hotel Monterrey
Ctra. de Tossa, s/n
17310 Lloret de Mar
Tel. +34 972 346 054
www.ghmonterrey.com
Hipócrates Curhotel
Ctra. de Sant Pol, 229
17220 Sant Feliu de Guíxols
Tel. +34 972 320 662
www.hipocratescurhotel.com

Hotel Grèvol Spa
Av. Les Saletes, 7,
Llanars (Vall de Camprodon)
17869 Llanars
Tel. +34 972 741 013
www.hotelgrevol.com
Hotel Rural-Spa Resguard dels Vents
Camí de Ventaiola, s/n
17534 Ribes de Freser
Tel. +34 972 728 866
www.hotelresguard.com

Silken Park Hotel San Jorge
Ctra. Palamós, s/n
17250 Platja d'Aro
Tel. +34 972 652 311
www.parkhotelsanjorge.com
Hotel Plaça Paris & Spa
Plaça Paris, 5
17310 Lloret de Mar
Tel. +34 972 364 558
www.hotelplazaparis.com