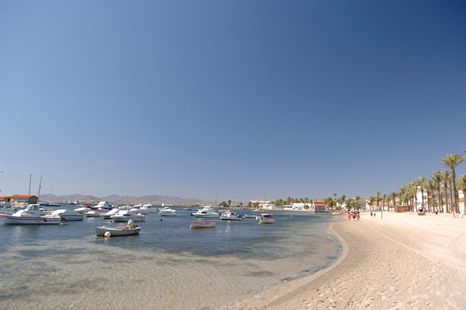 Overview
Costa Calida also known as La Manga, is the stretch of 250 km. of Murcian coastline from the beach of Carolina in Aguilas a few kilometers from the province of Almería, to the beach of El Mojón on the boundary with Alicante, on the south east side of Spain. Costa Calida is shared by the two seas that include the Mar Menor which is considered to be the largest natural pool in the world and a paradise for all types of water sports; and the Mediterranean Sea with its beautiful fine sandy beaches.

Murcia and Cartagena are the cities on the spot in Costa Calida. It boasts great archaeological treasures including the Roman theater, Modernist (Art Nouveau) buildings and interesting museums. It is a harbor city of 3,000 years of history.

The Mar Menor is separated from the Mediterranean by a narrow strip of land of 22 km. wide and this region is called La Manga del Mar Menor, which is one of the best tourist destinations in Europe and Mediterranean worthy of its sandy beach and crystal-clear waters with highest tourist facility standards. Cabo de Palos is a charming seafaring village just a a few minutes from La Manga.

Los Alcazares is a popular resort for water sports with its 7 km. of beaches.

Aguilas is a beautiful seafaring resort that offers great holiday opportunities with its 34 km. of beautiful coastline with with wide range of tourist facilities.

Attractions ~ Things to Do in Costa Calida
Costa Calida coasts offer great opportunities for the visitors. Sailing and skin diving, experiencing the sunken ship, visiting the nature park, calm aches and pains with a soothing mud bath and discovering beautiful unspoiled coves are some of the best daily activities in Costa Calida.

The Mar Menor on the southeast of Murcia is another beauty of nature. It is considered as the world's largest natural pool with 170 square kilometers of a shallow lagoon in warm waters and variety of hotels and sports sports facilities. Mar Menor is one of the best locations in Europe for training and learning all kind of water sports.

The Regional Park of Las Salinas y Arenales de San Pedro del Pinatar in El Mojón is the most important wetlands in the region of Murcia worth to visit. The park is open to the public and the environment is great with pine trees, dunes and fine sandy beaches such as La Llana beach that can be visited on foot or by bicycle. Also a visit to the encañizadas which is a traditional fishing method in the region and formerly used by the Arabs is a must.

Cabo de Palos is one of the best sites in Spain for skin diving.

Read more about things to do in Costa Calida >>>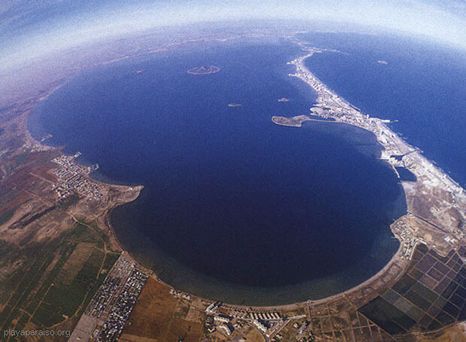 The Mar Menor

Culture & Art ~ Museums
There are several interesting museums to visit and see in the Costa Calida. The Municipal Museum of Archeology of Cartagena exhibits interesting collection of objects from the Bronze Age. The National Museum of Underwater Archaeology of Cartagena exhibits a collection of amphoras used on the Iberian Peninsula during ancient times. The Maritime Museum of Cartagena exhibits an excellent collection of maritime art and objects. The Mining Museum of La Unión displays a didactic presentation of the evolution of mineral extraction techniques in 19th century Murcian mines.

Shopping
Centro de Artesanía de Cartagena (Calle Capitanes Ripoll) is worth to visit and shop that exhibits a wide range of handicrafts that are produced in the area. It is possible to experience how clay, glass, cloth, and esparto-grass are handcrafted.

Weather in Costa Calida
Costa Calida has a wonderful weather of typical Mediterranean with mild winters and hot summers. The annual average temperature is 17 C and there are 315 days of sunshine in the region.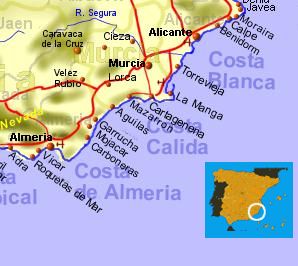 Costa Calida Holidays Page Sponsors
Your ad here !!!
For advertising inquiries, email us to;
ace_offers@yahoo.co.uk