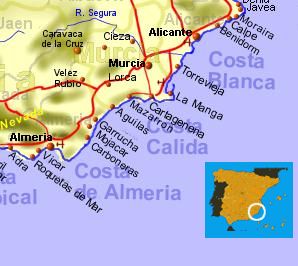 Costa Calida also known as La Manga, is the stretch of 250 km. of Murcian coastline from the beach of Carolina in Aguilas a few kilometers from the province of Almería, to the beach of El Mojón on the boundary with Alicante, on the south east side of Spain.

For getting to Costa Calida & Murcian Region; the Murcia Airport (Aeropuerto de Murcia - San Javier) is the point.
By Air
By air, it is possible to get to Costa Calida via Murcia San Javier Airport, located next to the popular holiday resort Mar Menor and 47 km. from Murcia. Murica airport has direct connections with several Spanish capitals, as well as charter flights from a variety of European cities. Car rentals in Costa Calida are available at the airport.

Murcia Airport (Aeropuerto de Murcia - San Javier) Information
Address: Ctra. del Aeropuerto, s/n, 30720 SAN JAVIER
Tel: 902 404 704; Fax: 968 172 033; http://www.aena.es

By Road
By road, it is possible to reach Costa Calida from Murcia by Autovía Murcia-Cartagena which connects with Mar Menor, La Manga and Cabo de Palos. For getting to Aguilas and Mazarrón, travellers may take the Autovía Andalucía from Murcia or the N-332 from Cartagena. Also there are daily bus services which connect Murcia with the Costa Calida.

By Rail
By rail, it is possible to reach Costa Calida via RENFE (Spanish National Railways) trains. They provide a daily train service between Murcia and Cartagena as well as to the rest of Spain and also a special coastal service during the summer months.