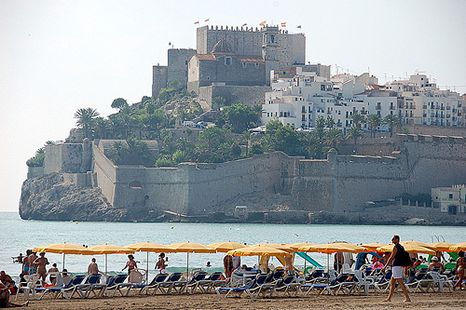 Castellón
Overview
Costa del Azahar, which means the coast of orange blossom is located in the province of Castellón on the eastern side of Spain neighboring Catalonia to the north, Aragon to the west and Valencia to the south.

Costa del Azahar is one of the ideal holiday destinations in Spain with 330 days of sunshine a year. Costa del Azahar has 120 km. coastline of fine sandy beaches and beautiful coves, and on the inlands there is wonderful nature carved in lush pine and oak forests and beautiful vast orange groves. Castellón province is the second most mountainous region in Spain.




Recommended holiday resorts for Costa del Azahar
Castellón de la Plana, Peniscola, Benicàssim, Oropesa del Mar, Burriana, Las Fuentes, Alcossebre and Cap i Corb are the popular holiday resorts in Costa del Azahar.

Castellón province has one of the most modern ports in Spain with seven marinas and Yacht Club where over three hundred boats moor and wide range of water sports can be found. L'Illa Grossa is the most popular one that is a sea nature reserve.

Castellón de la Plana is the most popular and the capital city of the region. Peníscola, Benicàssim and Burriana are the other well known towns of Costa del Azahar. Benicàssim is a nice holiday resort in Costa del Azahar having a 6 km. fine sandy beaches. After Benicàssim, to the north comes the historical Maestrazgo region where the shoreline is covered by the mountains and tranquil beaches. The towns along this stretch of coastline is one of the most touristic destinations of Costa del Azahar. Las Fuentes, Alcossebre and Cap i Corb are the popular holiday resorts here. Peniscola is the leading beach holiday resort of the Castellón province with its beautiful beaches. Oropesa del Mar is another calm beach holiday resort of the Castellón province in Costa del Azahar that is worthy of its beautiful beaches and a modern tourist infrastructure.

As for beaches and water sports in Costa del Azahar; Costa del Azahar coasts offer great water sports activities such as sailing, windsurfing, jet skiing, fishing, water-skiing, scuba diving, rowing, as well as competitions and regattas. The best Costa del Azahar beaches include; the El Pinar beach in Castellón de la Plana; L'Arenal beach in Buriana; Morro de Gos beach in Oropesa del Mar (Orpesa) and Sud de Benicassim beach (Heliópolis) in Benicàssim.

Read more about things to do in Costa del Azahar >>>

Nightlife in Costa del Azahar
The nightlife in Costa del Azahar is centered in Castellón during the year. There are fashionable clubs and bars to enjoy the nights. In the summer times the nightlife becomes more lively in the holiday resorts such as Benicàssim and Burriana together with Castellón. Nice discothèques, clubs, bars and pubs offer nice environment. Las Villas in Benicàssim is the most favorite ones of the clubs.

Cuisine ~ Eat & Drink
Costa del Azahar offer great cuisine to its visitors. Gastronomy varies with the coast or inland towns. Red mullet (salmonetes), Norway lobster (cigalas), shrimp (gambas)and king prawns (langostinos), mixed seafood platters, stewed (zarzuela de pescado), grilled sardines and variety of seafood dishes are the popular in the coastal towns.

Shopping
Ceramics and cloth handicrafts are the most popular item to be bought in Costa del Azahar. In addition, the town Morella is good at textile industry.

Weather in Costa de la Luz
Costa del Azahar has a wonderful weather with mild winters and hot summers. The annual average temperature is 18 C and there are 300 days of sunshine in the region.
Costa del Azahar Holidays Page Sponsors
Your ad here !!!
For advertising inquiries, email us to;
ace_offers@yahoo.co.uk