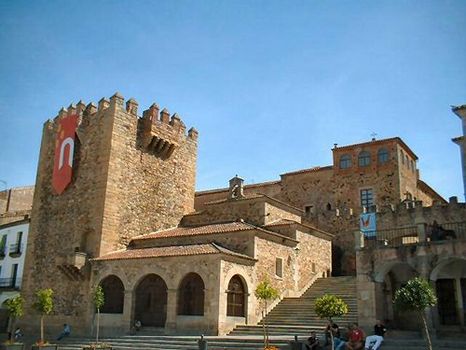 Overview
The city of Cáceres in the Extremadura region is situated in the centre of the flatlands that combine with the characteristic Extremadura pasturelands to form an extremely attractive landscape, on the center west part of Spain mainland. Cáceres is the capital city of one of the two provinces making up the Autonomous Community of Extremadura. It is a a World Heritage City since 1986.

Cáceres is a must for everyone in their holidays to Spain especially for the ones who are interested in learning of an encounter between worlds and cultures that have evolved through history (from the Palaeolithic to the present day) in the same geographical space. This monumental city is attractive with its city walls, Roman arches, Arab wells, vaults and pointed arches, turrets and belfries alongside palaces with Renaissance patios and flat-arched façades.

Things to Do and See in Cáceres
The places of interest in Cáceres include;
the City Walls

Cathedral Church of Santa María

Palacio de Carvajal

Palacio de Toledo-Moctezuma

Palacio de los Golfines de Abajo

Palacio de los Cáceres-Ovando

Church of San Mateo

Palacio del Comendador de Alcuéscar

Palacio de los Golfines de Arriba

Palacio de Godoy

Church of Santiago de los Caballeros

Plaza de San Jorge

Bishop's Palace

Palacio de Mayoralgo

Palacio de Adanero

Museo de Cáceres – Palacio de las Veletas

Museo de Historia y Cultura

Casa Museo Árabe Yusuf Al Burch

Cathedral Church Museum

Cultural Guidance Centre

Parque del Príncipe (open-air sculpture display)
City Tours in Cáceres
The city tours to participate and discover the Cáceres include;
Tour of the old quarter - A 2-4 hours tours to discover the city by the Cáceres-Galarza Tourism Centre.

Tour of the sightseeing area - A full day tour.

Tour along the radial route - Cáceres to Trujillo and than back to Cáceres.
Cuisine ~ What to Eat


The gastronomy of Cáceres has much to offer to its visitors. The traditional cuisine of Cáceres based on the innards of pigs and other animals with its delectable lamb stews, toothsome sausages and tempting pork products as well as the bread, a key ingredient in soups and the fabled migas (fried breadcrumbs). A typical menu include wild asparagus, truffles, tench and frogs. Soups are essentially based on bread and enhanced by tomatoes, figs, garlic and ham, garlic and eggs or pork fat and pig's liver. Gazpacho and Pot stews are also favorite. Frite, a dish with lamb is one of Cáceres' most popular dishes that includes pieces of fried lamb and potatoes seasoned with paprika, all cooked together and served with a thick dressing made from crushed lamb's liver, garlic and peppers. As for the pork dishes; the most famous ones include; pestorejo that the pig's ear served with fried tomatoes and peppers; minced pork with paprika; prueba and moraga. Cáceres is also famous with its wide range of tasty sausages. Frogs that are coated with beaten eggs and breadcrumbs and then fried, or stewed with tomatoes are among the most popular dishes as well as the lizard that is cooked in green sauce or battered. The Tortas del Casar is the most popular cheese of the region. When it comes to wines, home-made pitarras that are produced only in small quantities are the popular ones. The whites from Sierra de Gata, the ones from Cañamero, Montánchez and Miajadas are great.

Handicrafts ~ What to Buy
Traditional handicrafts has an important value in the province of Cáceres. Basketry is unique to the northern part of the province. The Montehermoso caps that are made from stalks of rye and decorated with sequins and tiny mirrors, are the symbol of a tradition and a regional identity. Copper is widely-used throughout the province of Cáceres and the best copper items can be found in Guadalupe. Silverware is also take part in the city's best items. The products of the silversmiths of Cáceres are amazing and worth to buy. Cork is another great one that is mostly used in lamps, decorative objects, gifts and other handicrafts in towns of Valencia de Alcántara, Casar de Cáceres and Malpartida de Cáceres. Pottery and ceramics comes next where Cáceres has always been famous for its high quality pottery and ceramics.

Cultural Events & Fiestas in Cáceres
Pilgrimage. Santos Mártires San Fabián y San Sebastián in January 20.

Fiestas: Las Candelas and San Blas in February 2 and 3.

Mediaeval carnival.

Holy Week. Event of National Touristic Interest.

Fiesta. San Jorge, patron saint of the city in April 23.

Foro Sur. Contemporary Ibero-American Art Fair in April.

Descent into the city of Virgen de la Montaña held 10 days before the first Sunday in May.

WOMAD. International Ethnic Music Festival promoted by Peter Gabriel in the second week in May.

Feria de Mayo. Cáceres leading fair held on the Day of San Fernando.

Cáceres Theatre Festival. Classical theatre festival held in the squares in the sightseeing area in June

International Folklore Festival of the Peoples of the World at the end of July.

Spanish Ancient Music Festival at the beginning of September.

Mediaeval market. A Tri-cultural market in November.
Getting There
Access to Cáceres is easy. There are many convenient ways to get to Cáceres. The expressway Autovía de la Plata (A-66) links Cáceres with Plasencia (84 km) and Salamanca (215 km) to the north and with Mérida (68 km) and Seville (264 km) to the south. National Road 521 crosses Cáceres from east to the west and leads to the Portuguese axis of IP-2. And to the east, it merges up with Trujillo and the A-5 Expressway. There is also a good railway service through Cáceres.
Cáceres Useful Telephone numbers
Municipal Tourist Office
C/Ancha
Phone: +34 927 247 172
www.caceres.es

Ayuntamiento de Cáceres (City Hall)
Concejalía de Turismo
Plaza Mayor, 10003 Cáceres
Phone: +34 927 255 765
Fax: +34 927 216 577
www.caceres.es

Oficina de Turismo de Cáceres
Junta de Extremadura, Plaza Mayor, 10
Phone: +34 927 010 834

Centro Turístico "Cáceres-Galarza"
Plaza Obispo Galarza
Phone: +34 927 243 188

Centro de Interpretación "Torre de Bujaco" (Cultural Guidance Centre)
Plaza Mayor
Phone: +34 927 246 789

Oficina de Información Turística Asociación Profesional de Guías Turísticos de Cáceres
Plaza Mayor, 2
Phone: +34 927 217 237

Patronato de Turismo, Artesanía y Cultura Tradicional de Cáceres Palacio de Carvajal
Amargura, 1
Phone: +34 927 255 597/598
www.dip-caceres.es

Bus Station
Carretera de Sevilla
Phone: +34 927 232 550
Railway Station
Avda. de Alemania
Phone: +34 902 240 202
Radio cab
Phone: +34 927 232 323, 34 927 212 121, 34 927 242 424