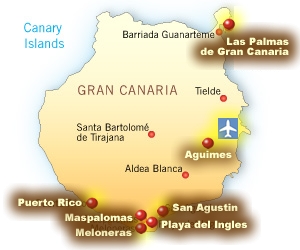 As for excursions; visitors may attend to organized or individually arranged tours and trips to inland, along the coast or by sea in Gran Canaria. In addition, especially for nature and hiking lovers; excursions and trips to Bandama Volcano, Viera y Clavijo Botanical Gardens, Tamadaba Pinewood and Nublo is a great things to do in Gran Canaria.

As for watersports; Gran Canaria offers great watersports opportunities for the holidaymakers. Sailing, yachting and windsurfing are the most popular watersports activities in Gran Canaria. Other watersports available are outboarding, waterskiing, para-skiing and scuba-diving.
As for shopping; Holidaymakers in Gran Canaria prefer to shop in the area of Las Canteras beach in Las Palmas de Gran Canaria.

As for entertainment & nightlife; Gran Canaria has variety of options that include pubs, bars, discotheques, floor shows, bowling alleys as well as with several leisure and entertainment centers. Kasbah, Metro and Maspalomas in the main downtown district of Playa del Inglés are the main spots for nightlife Gran Canaria. In addition, the Cita Centre in Playa del Inglés is another entertainment area.