Overview
Granada is one of the most spectacular and important capital cities in Spain worthy of its culture, history and monuments. Granada, also Spain's last Moorish kingdom is located on the south east part of Spain, by the Sierra Nevada mountains, in the Costa del Sol of Andalusian region. The city was the meeting point of Islamic and Christian cultures. The most emblematic and world famous monument in the city is the Alhambra Palace which is also declared a World Heritage Site. The Alhambra Palace is a must-see destination and city breaks for all travelers and holidaymakers visiting Andalusia in their holidays to Spain.

Granada offers numerous sights to visit and see. Places of interest in Granada include; Alhambra, Albaicín, Plaza de San Nicolás, Monastery of Santa Isabel la Real, Sacromonte, Casas de El Chapiz, School of Arabic Studies, Palace of Los Córdova, Carrera del Darro, Paseo de los Tristes, El Bañuelo (Moorish baths), Plaza Nueva, Royal Chancery, Church of Santa Ana, Gran Vía de Colón, Corral del Carbón, Plaza de Bib-rambla, Alcaicería, Palace of La Madraza, Capilla Real (Royal Chapel), Cathedral, Hospital Real, Monastery of La Cartuja and Generalife.

Top 10 Attractions & Best Things to Do & See in Granada
Alhambra Palace - World famous Alhambra Palace is one of the most visited place in Spain. A must see. "Alhambra" which means "red", takes its name after its red-brown bricked outer walls. Alhambra is situated on a heavenly nature. It rises through the deep straight of Darra River.

Mirador de San Nicolás (San Nicolás Viewpoint) - The spectacular landscape of the Alhambra is great and a must.

El Albaicín - It is the old Arab Quarter that located on one of Granada's two hills. Strolling by the narrow streets and taking the tour of the quarter is a great activitiy.

Granada Cathedral - The gothic cathedral in the heart of Granada is magnificent and worth a visit.

Generalife - Famous with its beautiful gardens, pathways, patios and pools. It is one of the best places to see during the Alhambra Palace visit.

Capilla Real - The chapel of the kingdom and one of the Granada's favorite buildings. Also known as Royal Chapel, it is the resting place of Ferdinand and Isabella.

Museo Arqueologico - Archaeological Museum of Granada.

Corral del Carbon - Handicraft shops worth a visit.

Tapas Tours - Enjoy the tapas bars around Plaza Nueva and Campo del Principe.

Flamenco Show - A flamenco night in the caves of Sacramonte is a must.
Nearby attractions and excursions from Granada include; skiing in the Sierra Nevada mountains in winter or a daily trip to Alpujarras. Cordoba, Malaga and Seville are the other world famous cities nearby Granada worth to visit. Granada International Festival of Music from June to July, Sonar Music festival in June and Dance and the festivals during Semana Santa (Holy Week) are also one of the best cultural attractions of Granada.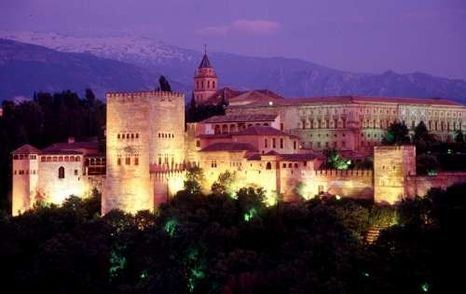 Food and Drinks in Seville
Granada offers great tastes of the Andalusian cuisine to its visitors. Most restaurants are situated in the city center, southeast of Granada Cathedral and in the the Albaicín area. The restaurants with the Alhambra view are popular such as Huerto de Juan Ranas and the Mirador de Aixa. There are numerous quality Tapas bars and restaurants lined up along the Plaza Campo del Príncipe and C/Navas. Bodega Espadafor, Bodegas Castañeda and Cunini are the more preferred tapas bars.

Shopping in Granada
Granada offers variety of shopping opportunities. Fine guitars and handmade Fajalauza pottery are the best shopping items in Granada. Spanish guitar makers of Granada are world-renowned. Jarapas from Alpujarras are an attraction for the travelers. The Alcaicería of Granada is the best place to purchase taracea, marquetry of Arab origin. Pottery and cabinet making are also great items to buy.

Nightlife in Granada
Pedro Antonio de Alarcón is the main place for nightlife activities. The bars on the Pedro Antonio de Alarcón street and the venues on Elvira are popular. Flamenco shows are also a must during your Granada visit. The ones in the caves of Sacramonte is popular.

Getting to Granada
Granadahas its own airport located about 17 km. from the city center. There are regular flights from the major Spanish cities. Iberian Airways runs daily flights to Granada from Madrid and Barcelona. Also there are daily cheap flights to Granda from UK by Monarch and Ryanair. As for the rail network; Granada's train station of Avenida de Andaluces is located 1,5 km. on the west of the city center. RENFE trains operate to and from many Spanish cities. And by bus, there are a lot of regular bus service through all regions of Granada. The bus station of Carretera de Jaén is located 3km on the north west of Granada city center.

Tourist Office of Granada
Santa Ana, 4 ; Phone: +34 958 575 202