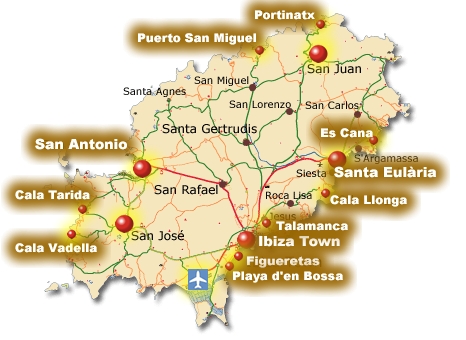 A great day out at the Ibiza beaches is one of the best things to do in Ibiza. With its infinitely beautiful coasts, you'll feel like in heaven with the nature and feel like a child again in Ibiza.

Sip a drink and enjoy the panoramic views. Continuing your way along the island, you'll admire the virgin coasts. Here you'll learn how to dive deep down to the blue turquoise sea where all the treasures of the seabed are hidden, at the best diving schools in Ibiza.

See Top 10 Best Ibiza Beaches >>>
See Ibiza Town Centre Eivissa Beaches >>>
See San Antonio Beaches >>>
See Santa Eularia des Riu Beaches >>>
See Sant Josep de Sa Talaia Beaches >>>
See Sant Joan de Labritja Beaches >>>

Below is the complete list of beaches in Ibiza. On the right table below, you may see the facilities and services for the Ibiza beaches. You may also see the details of the beaches for each region with maps and photos. Click the photos for larger view.