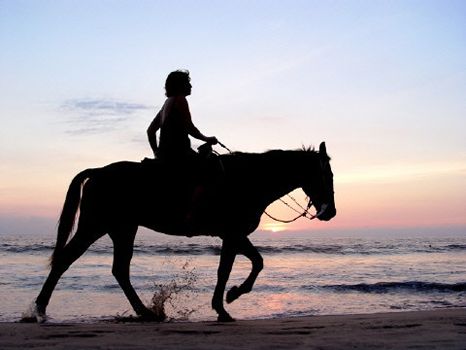 Horseback riding in Ibiza is another great outdoor and nature activity for the horse-riding enthusiasts. It is also one of the best things to do in Ibiza.

Below are the horse-riding centres in Ibiza that the visitors may apply on their Ibiza holidays and enjoy the horse riding in many ways such as island tours, jumping events and trotting races.

In addition, the hippodromes of Ibiza are worth a visit and experience the races as well as having a chance to bet on your Ibiza holidays.
Horse Riding Centres in Ibiza
Can Mayans
in Sant Joan
Address: Ctra. Santa Gertrudis, Sant Lorenš, km. 3, 07814, Sant Joan de Labritja, Ibiza
Phone: +34 971 187 388
Finca Can Puig
in Sant Joan
Address: Ctra. Sant Miquel, 07814, Sant Joan de Labritja, Ibiza
Phone: +34 607 144 029 ; Contact: quadresespuig@hotmail.com
Easy Rider
in Santa Eularia
Address: Cami des Sol d'en Serra, 07840, Santa Eularia des Riu, Ibiza
Phone: +34 607 144 029 ; Contact: juanluismuson@hotmail.com
Hipodromo Sant Jordi
Address: Ctra. Aeroport, km. 4, 07817, Sant Jordi de Ses Salines, Ibiza
Phone: +34 971 396 669
Hipodromo Sant Rafael
in San Antonio
Address: Finca de S'Hort Nou (Cami Vell de Sant Mateu), 07816, San Antonio (Sant Antoni de Portmany), Ibiza
Phone: +34 971 198 561 ; Web: www.conselldeivissa.es