Ibiza is a world popular holiday island and UNESCO World Heritage Site of the Balearic Islands of Spain. It's also famous for the yachtsmen. Ibiza is very popular with its crazy summer parties. From sunrise to sunset, you'll find golden sandy beaches and extraordinary nightlife activities where you can discover thousands of ways to enjoy the Ibiza's warm waters, its sun, unspoilt nature, clean water, pure air and crazy nights. Ibiza will fulfill your dreams, needs and desires for sure. Ibiza can be considered as the last paradise of the Mediterranean.

Ibiza Resorts & Towns
Popular towns and resorts of Ibiza include Ibiza Town, Talamanca, Figueretas, Playa d'en Bossa, San Antonio, San Antonio Bay, Santa Eulalia, Es Cana, Portinatx, Cala Llonga, Cala Tarida, Puerto de San Miguel and Cala Vadella.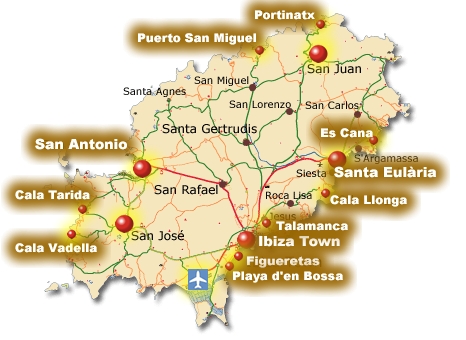 Language
Spanish and Catalan are the official languages in Ibiza.

Public Holidays
- New Year Day: 1st of January.
- Epiphany : 6th of January.
- Good Friday & Easter Monday : March/April.
- Labor Day : 1st of May.
- Spanish National Day : 12th of October.
- All Saints Day : 1st of November.
- Constitution Day : 6th of December.
- The Immaculate Conception Feast : 8th of December.
- Christmas Day : 25th of December.
- Boxing Day : 26th of December

Weather
Ibiza has a perfect Mediterranean climate. The average annual temperature is 22°C. August ais the warmest month with an average temperature of 30 °C and January is the coolest month with an average temperature of 15 °C.

Transportation
Visitors may use public and private transport opportunities linking the island and providing easy access to popular tourist spots. Public and private bus services, taxis, boat charters inter-island, car and bike rental are the transportation options.

Emergencies
Emergency phone number in Ibiza is 112 and the Balearic Emergencies Service will attend to you in four languages (English, Catalan, Spanish and German). Service includes ambulances, fire brigade and security forces.