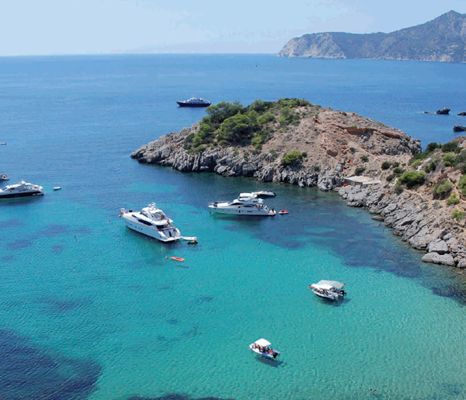 Sailing to explore the beautiful coastline of Ibiza that is dotted with islets and to discover the idyllic spots together with swimming with the dolphins, surfing the waves is a must take attraction and one of the best things to do in Ibiza.

Holidaymakers may sail round the numerous inlets, offshore islands such as Ses Bledes, Ses Margalides, Tagomago, Sa Conillera and S'Espartar as well as enjoying the beautiful cliffs like Punta Galera and Sant Joan. Also going ashore in nature reserves such as Ses Salines or Cala d'Hort and experiencing the sunset and night in Cala Carbo, Aigues Blanques, Cala de Sant Vicent and Portinatx would be fascinating.

For anchoring and beaches; Cala Nova, Cala Mastella or Cala Boix may be great and for the nightlife at the dynamic ports, Ibiza, San Antonio, Santa Eularia or Puerto San Miguel are the perfect choices.

Below are the sailing centers and sailing schools in Ibiza that the visitors may apply and experience the sea, sailing and all nautical activities on their Ibiza holidays.
Sailing centres & schools in Ibiza
Club Nautico de Ibiza
in Santa Eularia
Address: Av. Santa Eularia, s/n 07800 Ibiza
Phone: +34 971 313 363 ; Fax: +34 971 194 335 ; Web: www.clubnauticoibiza.com
Anfibios
in Sant Josep de Sa Talaia
Address: Platja d'en Bossa Beach, Building Acapulco, 07817, Sant Josep, Ibiza
Phone: +34 971 303 915 ; Fax: +34 665 139 198 ; Web: www.anfibios.com
Escuela de Vela y Surf Club Delfin
in Sant Josep
Address: Cala Codolar, 07830, Sant Josep, Ibiza
Phone: +34 971 806 374
Club Nautico Sant Antoni
in San Antonio
Address: Passeig Maritim, s/n, 07820, Sant Antoni de Portmany, Ibiza
Phone: +34 971 340 645 ; Fax: +34 971 345 607 ; Web: www.nauticsantantoni.com
Ibiza Sailing
in San Antonio
Address: Murillo, 5, 07820, Sant Antoni de Portmany, Ibiza
Phone: +34 971 346 974 ; Fax: +34 971 346 974 ; Web: www.ibizasailing.es
Club Nautico de Santa Eularia
in Santa Eularia
Address: Marina Santa Eularia, Building Club Nautico, 07840, Santa Eularia, Ibiza
Phone: +34 971 331 173 ; Fax: +34 971 807 290 ; Contact: cnauticoz@yahoo.es
Escuela de Vela y Surf Cala Palada
in Santa Eularia
Address: Cala Pada Beach, 07840, Santa Eularia des Riu, Ibiza
Phone: +34 971 330 886 ; Fax: +34 971 331 601 ; Web: www.clubcalapada.com