Things to Do and See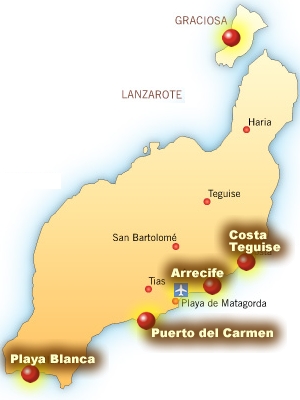 On Lanzarote, you can enjoy the awesome volcanic landscape created by destructive eruptions centuries ago and even have your lunch barbecued from the heat of the volcano. Beaches of Lanzarote is really beautiful and unspoilt. Playa Grande, Punta de Papagayo, Fariones beach, Playa Flamingo and Playa de los Pocillos are among the most popular Lanzarote beaches. Las Cucharas, La Santa and Famara beaches are mostly preferred for windsurfing.
Puerto del Carmen is a popular and major holiday resort offering great leisure activities such as diving excursions, watersports, boat trips, fishing, adventure playground, etc. Mirador del Rio is the popular landscape and view point located at 498 meters above sea level and a must attraction on top of the Risco de Famara offering the most spectacular views of Lanzarote.
A trip to Timanfaya National Park is definitely unmissable. Camel Safaris in the park is also a perfect attraction and excursion opportunity for the holidaymakers. Other sites worth to visit include the 3,5 mile Volcanic Cave of Los Verdes (Cueva de Los Verdes), La Graciosa Island that is located on the north of Lanzarote, shops and the busy port atmosphere of the island's capital Arrecife, and the old capital Costa Teguise with its castle, beaches and churches...

Read more about things to do in Lanzarote >>>
Nightlife
Nightlife in Lanzarote is energetic and full of fun. Playa Blanca, Arrecife, Puerto del Carmen and Costa Teguise are the best holiday towns and places for a nice nightlife in Lanzarote. The bars and night clubs at Avenida de las Playas in Puerto del Carmen is recommended. Other areas are; Playa Honda, Costa Teguise and Arrecife (Divino Doblón and La Biosfera)... Jameos del Agua is a recommended night club for the holiday makers.

Food & Drinks
If you like to taste different types of foods at your holiday, Lanzarote is just a suitable place for you. Lanzarote restaurants offer best world cuisine to its visitors. There are lots of pretty cafes and restaurants in Lanzarote, La Tegala and Café El Maño are the popular ones. Dorada, Tropical and Mahou beers are the popular local drinks.
Accommodation
Accommodation facilities of Lanzarote have been designed to suit the taste of any holidaymaker that include exquisite five-star hotels and Lanzarote villas to country cottages with the charm and essence of the island. Lanzarote hotels offer great accommodation and quality service to its visitors.

Travelling to Lanzarote
The island of Lanzarote is located in the Atlantic Ocean and offer variety of beaches, volcanic landscape and attractions. There are numerous direct flights to Lanzarote and travellers are to find many cheap flights to Lanzarote from many major cities of the world. Flying to the other Canary Islands and then getting to Lanzarote by ferries is another option.