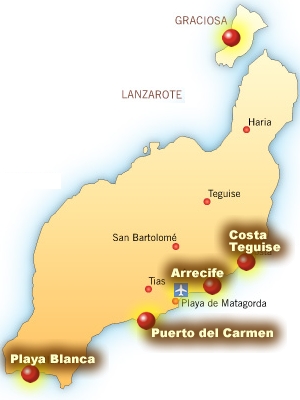 With variety of beaches, volcanic landscape and attractions, Lanzarote, member of Canary Islands, which means "the red group of mountains" is an intriguing island full of surprises for holiday makers.

Accommodation facilities of Lanzarote have been designed to suit the taste of any holidaymaker that include exquisite five-star hotels and Lanzarote villas to country cottages with the charm and essence of the island.

Lanzarote hotels offer great accommodation and quality service to its visitors.

Arrecife is the capital city and the island's commercial and administrative town.

Puerto del Carmen is the most popular and major holiday resort located on the southern Lanzarote. It is one the most preferred location for holidays to Lanzarote.

Other popular holiday resorts in Lanzarote include Playa Blanca and Costa Teguise.