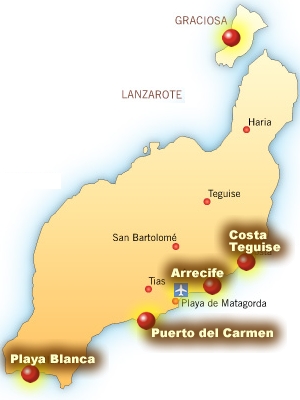 Places to visit and see on the central Lanzarote include; Puerto del Carmen, Tías, Masdache, Bodega el Grifo, Mozaga, Casa Museo del Campesino, Monumento al Campesino, Tiagua, Museo Agricola El Patio, Sóo, La Caleta de Famara, Famara, Teguise, Castillo de Santa Barbara, Tahíche, Fundacíon César Manrique and San Bartolomé.

Puerto del Carmen is a popular and major holiday resort offering great leisure activities such as diving excursions, watersports, boat trips, fishing, adventure playground, etc.

Places to visit and see on the north of Lanzarote include; Costa Teguise, Guatiza, Jardín de Cactus, Arrieta, Jameos del Agua, Cueva de los Verdes, Orzola, La Graciola, Chinijo Archipelago, Mirador del Rio, Guinate, Parque Tropical, Haría and Los Valles.

Costa Teguise is a popular holiday resort offering nice hotels, holiday apartments, golf course, waterpark, marina, shops, restaurants and nightclubs. Playa de las Cucharas is the most popular and largest beach of the five beautiful white sandy beaches in Costa Teguise.

Cueva de los Verdes is a vast volcanic landscape located in the Haria town worth visiting.
Guatiza is a popular small holiday town worth visiting on the north of Costa Teguise. Things to see include a chapel named Ermita de Santa Margarita and famous cacti garden named the Jardín de Cactus.

Mirador del Rio is the popular landscape and view point located at 498 meters above sea level and a must attraction on top of the Risco de Famara offering the most spectacular views of Lanzarote, including the straits of El Rio and the islets of Graciosa.
Places to visit and see on the south of Lanarote include; Playa Blanca, Salinas de Janubio, Los Hervideros, El Golfo, Lago Verde, Yaiza, Parque Nacional de Timanfaya, Fire Mountains, Mancha Blanca, Tinajo, La Santa, Valley of La Geria, Uga, Puerto Calero and Femés.

Playa Blanca is a former fishing town and a popular holiday resort offering great beaches, lots of cafes, restaurants, bars, shops and a few big hotels.

The National Park of Timanfaya is a world biosphere Reserve consisting several volcanic lava fields and an ochre colored "lunar" landscape. Camel Safaris in the park is also a perfect attraction and excursion opportunity for the holidaymakers.