Visit Seville, Spain Video
Overview
Seville is the largest town in the southern Spain located on the south and founded in the 8th-9th century BC. In other words, Andalusia means Seville. The charm of this capital of Andalucia on the banks of the Guadalquivir river is fascinating its visitors with its hundreds of flowered orange trees and magical nights. It is the city of Carmen, Don Juan and Figaro.

Sevile has much to offer to its visitors with its outstanding history and architecture, culture & art, museums and lively city life in their holidays to Spain. It is a hub of commercial and industrial activities together with fun and fiestas.

Top 10 Attractions & Best Things to Do & See in Seville
The Cathedral of Seville & La Giralda Tower - It is one of the world's biggest churches and is one of the most popular two monuments in Spain located in Plaza Virgen de los Reyes.

Plaza de Espana - It is an example of Moorish revival in Spanish architecture that is built in 1928 located in the north eastern edge of the Parque María Luisa.

The Alcazar - It is a 14th century Moorish style palace located in Patio de Banderas, 5 min. taxi ride from Santa Justa.

Real Maestranza - It is one of the most attractive 18th century bullfight arena in Spain located in Paseo de Colón in El Arenal, near the Rio Guadalquivir. The season begins with the Feria de Abril. There is a corrida every day till the end of the season on September.

Flamenco Dance - A fantastic flamenco night on the lands of Andalucia is a must.

Isla Mágica (Magic Island) - A theme park with roller coasters, rides and theatre shows located in Puerta de la Barqueta, Isla de la Cartuja.

Sightseeing Bus Tours & Boat Trip on the Guadalquivir River

Espacio Cultural Puerta Triana - It is a cultural theme park with museums and exhibits located in Camino de los Descubrimientos.

Museo de Bellas Artes de Sevilla (Museum of Fine Arts) - It hosts the second largest collection in Spain. It exhibits gold and silver works, ceramics, pottery, weapons, Spanish art and sculptures.

Torre del Oro (Golden Tower) - 13th century tower located in Paseo de Cristóbal Colon, on the banks of the Guadalquivir River.
Nearby attractions and excursions from Seville include; Itálica where it is the remains of the Roman city of Itálica located in the town of Santiponce, 10 minutes from the city center; the town of Carmona located 35 km. on the east of Seville that offers great historical scene. Cordoba, Malaga and Granada are the other world famous cities nearby Seville worth to visit.
Food and Drinks in Seville
Seville offers great tastes of the Andalusian cuisine to its visitors. Flamenco eggs, sauté kidneys with sherry, stuffed artichokes and fried fish are the popular dishes of Seville. There are numerous quality Tapas bars and restaurants lined up along the Cathedral square. Neighboring area of Triana also offers great restaurants worth to visit. Enrique Becerra, La Judería, Mesón Don Raimundo, Becerrita, Santa Cruz, Hostería del Laurel and El Giraldillo in Santa Cruz and Ox's in Triana are the popular best Andalusian Restaurants in Seville. Al Medina, Hang Zhou, La Grotta, Taberna del Alabardero and Sakura in El Arenal, San Marco in Santa Cruz and Helas in Santa Justa Station are the best international restaurants in Seville. Al Mutamid by the Gran Plaza, Bodegón Torre del Oro in Calle Santander, La Cococha in Santa Justa Station, La Isla in El Arenal and Pleamar in Remedios are the best seafood restaurants in Seville.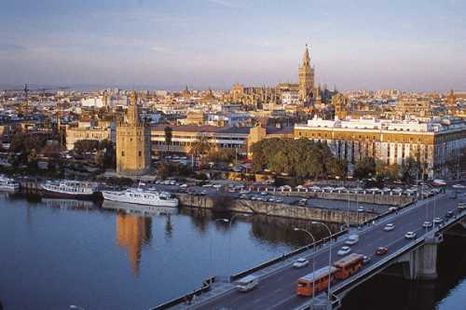 Shopping in Seville
Seville offers variety of shopping opportunities. Sierpes and Tetuan are the two parallel street at the center of Seville where it is the main shopping district together with Los Remedios on the other side of the river with classy boutiques and Nervion nearby the Santa Justa station. Plaza de Armas, Nervion Plaza and Los Acros are the popular shopping malls. Cabeza del Rey Don Pedro Street and the nearby streets offer variety of antique shops and galleries worth to visit. Nice ceramics can be found in Triana.

Nightlife in Seville
Seville's nightlife is great and offers many opportunities for the travelers. There are variety of bars, discos, international beer bars, tapas bars, Irish, British & Scottish pubs, tea houses and flamenco bars surrounding the city. Most famous music & dance bars are Los Gallos (flamenco) in Plaza de Santa Cruz, El Arenal (shows) in Calle Rodo, El Perro Andaluz (live music) in c/Bustos Tavera and El Patio Sevilleno (regional dances) in Paseo de Cristóbal Colón. Discos and Dance Clubs on the spot are Sala Boss in Triana, Antique in Expo 92 site (Isla de la Cartuja), Cathedral Club and Sevilla Mia in Santa Cruz, Birdie in Nervion, Notre Dame in Avenida Montesierra, Weekend House Club in Torneo and Babilonia in Los Remedios.

Getting to Seville
Seville Airport (San Pablo Airport) is the international airport in Seville located 4 km. from the city center (Phone: +34 95 444 9 000). It is one of the busiest and major airports in Spain. There are fine connections to the airport from the many towns and major nearby cities such as Madrid and Cordoba. There are many direct flights to Seville from major European countries. Seville car hire and car rental is available via many major companies.
City Breaks to Seville
Study Spanish in Sevilla - Study Spanish in Sevilla in one our language schools with don Quijote. We offer Spanish courses in Sevilla. Join us!
Learn Spanish in Sevilla - We offer Spanish language courses in Seville, Andalusia. Study Spanish in Seville with don Quijote and attend our Spanish classes in the south of Spain.
Your ad here !!! For advertising inquiries, email us to;
ace_offers@yahoo.co.uk