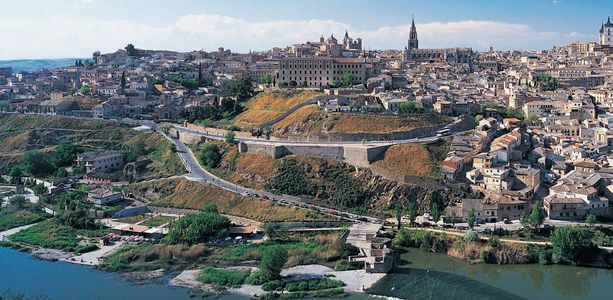 Spain sits in the most westerly point of Europe on what is known as the Iberian Peninsula.

One of the most popular tourist destinations on the European continent, it boats a plethora of exciting activities.

The cuisine, festivals and folklore are world-famous, and the friendly inhabitants, relaxed lifestyle, and vibrant nightlife all refine the reputation of holidays to Spain.

Spain also has a 13 spectacular world famous cities declared a World Heritage Site by UNESCO.
San Cristobal de la Laguna in Tenerife, Ávila, Segovia and Salamanque in Castile & Leon, Toledo and Alcalá de Henares in Madrid, Saint Jacques de Compostelle in Galicia, Cuenca in Castilla-La Mancha, Merida and Cáceres in Extremadura, Tarragona in Catalonia, Córdoba in Andalucia and Ibiza-Eivissa in Ibiza Island of the Balearics are the World heritage cities of Spain.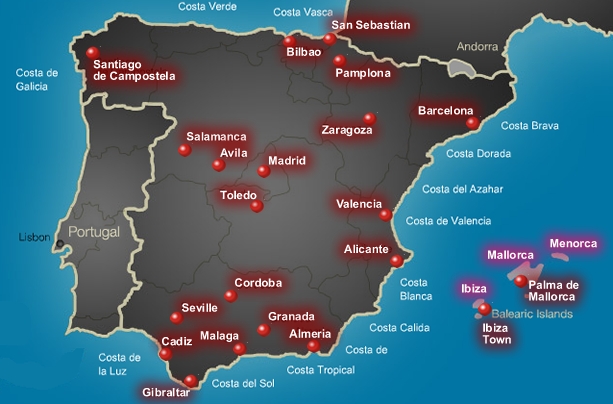 UNESCO World Heritage Cities of Spain
San Cristobal de la Laguna
This Tenerife city, founded in 1497 was destined to form a nexus between Spanish & American cultures. It received the values that would help forge its strong personality.

Salamanca
Salamanca in Castile-León is one of the most popular choices among tourists with its traditions, rich historical and artistic heritage, its Villamayor stone and its lively atmosphere.
Córdoba
Córdoba in Andalucia is a spectacular city with its long history from the Palaeolithic; the Turdetanians, a Pre-Roman Hispanic tribe to the Roman, Seneca, Lucan, Byzantium and Islam times. Visitors are advised to stroll through the narrow streets and secluded squares carved in deep history.

Ibiza-Eivissa
From sunrise to sunset in the Balearic Islands, you'll find golden sandy beaches and extraordinary nightlife activities where you can discover thousands of ways to enjoy the Ibiza's warm waters, its sun, unspoilt nature, clean water and crazy nights.
Toledo
Toledo in Madrid is one of Spain's luxuries and UNESCO's World Heritage Cities since 1986. Toledo has taken great care of its unique heritage, which dates back as far as the Neolithic. All the peoples that came to the Iberian Peninsula left the mark of their culture on the city.

Tarragona
Tarragona in the south of Catalonia and on the north east of Spain, Costa Dorada, is a beautiful city worthy of its history, beaches, museums, Reus and Salou towns and architecture.
Alcalá de Henares
Situated by National Road II, about 30 km on the east of Madrid, Alcalá de Henares is a young and industrial city with a rich cultural heritage. It is also a hub and nerve centre of an important region crossed by the River Henares.

Saint Jacques de Compostelle (Santiago de Compostela)
Situated in Galicia; it is a city tailor-made for the wayfarer. Streets and squares form a unique set piece that the city is awarded the title of World Heritage City by UNESCO in 1984 and in 2000 it was named European City of Culture.
Cuenca
Cuenca in Castilla-La Mancha in the center of Spain is one of the peninsula's oldest cities. Situated in the region known as Cordillera Ibérica, Cuenca is located at a high altitude of 999 mt. in a great mountain air.

Ávila
Ávila is the capital of one of the Castile-León situated in the southern area in an altitude of 1,127 mt. that is the highest city in Spain. Ávila is a city of contrasts alongside its distinguishing feature and legendary heritage.
Cáceres
The city of Cáceres in the Extremadura region is situated in the centre of the flatlands that combine with the characteristic Extremadura pasturelands to form an extremely attractive landscape.

Segovia
Segovia in Castile-León borders Madrid to the southeast is a city with great beauties, history, cultural attractions and gastronomy. The old city of Segovia and its Roman aqueduct awarded a World Heritage City by UNESCO in 1985.
Merida
Mérida is the capital of the Extremadura region. It is located in a valley at the convergence of two rivers, the Guadiana and Albarregas that the waters of which lap its foundations and guarantee the fertility of the surrounding land.