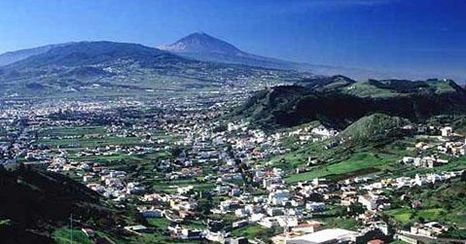 San Cristóbal de La Laguna is the UNESCO World Heritage City since 1999 and located in the northeast of Tenerife, Canary Islands. It is the island's old capital and the third biggest among the cities of the Canarian Archipelago. This Tenerife city, founded in 1497 was destined to form a nexus between Spanish & American cultures. It received the values that would help forge its strong personality. La Laguna is one of the best places to see in Tenerife.

Things to Do and See in San Cristóbal de La Laguna
The old town center offers many squares, historic buildings and museums. Walking through the city is exciting. Most of the sights is located between the bell tower and church of Iglesia de Nuestra Senora de la Concepcion, Municipality Palace, the cathedral and Plaza del Adelantado. The Church of the Holy Christ and the San Miguel Chapel is the other sights. Casa Ossuna Museum, the Friends of the Country Economic Society Museum, the Concepción Church's Museum and the Cathedral's Museum are the museums where visitors may find art and history.

Bajamar and Punta del Hidalgo are the nearby tourist areas with variety of hotels.

City Tours in San Cristóbal de La Laguna
The city tours to participate and discover San Cristóbal de La Laguna include;
Half day Tour - through La Laguna – Bajamar – Punta del Hidalgo.

1 day Tour - through La Laguna – Bajamar – Punta de Hidalgo – Las Mercedes – Santa Cruz

Tours of the Island of Tenerife from La Laguna - Itineraries: Parque Nacional del Teide, Parque Rural de Anaga, Parque Rural de Teno – the cliffs of Los Gigantes – Masca,Parque Natural de la Corona Forestal, Vilaflor – lunar landscape, Macizo de Adeje – Reserva Natural Especial, Barranco del Infierno, La Orotava, Puerto de La Cruz, Icod de Los Vinos/Los Realejos, Garachico, Candelaria, Santa Cruz de Tenerife
Handicrafts ~ What to Buy
The arts and crafts worth to see and buy in La Laguna includes; embroidery, brassware, musical instruments such as the timple, bamboo cages, woodwork, traditional costumes and the reproduction of aboriginal ceramic pieces.
Cultural Events & Fiestas in San Cristóbal de La Laguna
Días de Cofradía. Sacred music concerts in late February-early March.

Sacred Art Exhibition during Holy Week - in March-April.

International Short Film Festival in March-April.

Scenic Arts Festival of the University of La Laguna in March-June.

Sacred Music Week in April.

Folklore Festival in May.

City of La Laguna Brazilian Music Festival in late May-early June.

Book Fair in June.

San Benito Cattle Fair, including a display of traditional games and autochthonous sports in July.

Luis - International Poetry Prize in July-December.

International Julio Cortázar Short Story Award in July-December.

International Rafael Ramos García Photography Award in July.

Isla de Tenerife Cycling Race at the last week in August-first week in September.

Festival Sabandeños in September.

Wrestling in honour of Santísimo Cristo de La Laguna at the Saturday of the first fortnight in September.

Firework competition in September.

Autumn Ancient Music Cycle in October.

La Laguna Jazz Festival at the weekends in November.

Poetry in La Laguna in November.

Anniversary of La Laguna's World Heritage City award at the 1st fortnight in December.

City of La Laguna Choral Encounter (first fortnight in December)

Special Christmas Ancient Music Concert in late December and early January.
Getting There
La Laguna is located 3 km. from the "Los Rodeos" Airport and 60 km from the "Reina Sofía-Tenerife Sur" Airport that they both operate a full range of national and international flights to Tenerife. The local bus network in the island is well built so that is easy to get to La Laguna in Tenerife.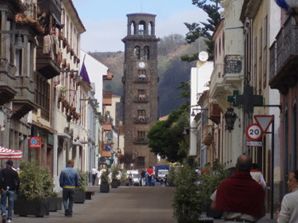 San Cristóbal de La Laguna Useful Telephone numbers
Ayuntamiento de San Cristóbal de La Laguna (City Hall) Concejalía de Turismo, C/Obispo Rey Redondo, 1, 38201 La Laguna – Tenerife
Phone: +34 922 601 107
Fax: +34 922 608 974
www.aytolalaguna.com

Tourist Information Point
Aerpuerto TFN – Los Rodeos
Phone: +34 922 825 046

Tenerife Tourist Board
Anexo al Centro Internacional de Ferias y Congresos
C/José Emilio García Gómez, Santa Cruz de Tenerife
Phone: +34 922 237 870
www.webtenerife.com

CICOP (International Preservation and Conservation Centre) Casa de los Capitanes Generales
C/Obispo Rey Redondo/La Carrera, 1
Tel./Fax: +34 922 601 167
www.cicop.com

University of La Laguna
Avenida de la Trinidad
Phone: +34 922 319 011

Radio cab
Phone: +34 922 258 806
Aeropuerto de Los Rodeos, AENA
Phone: +34 922 635 998
Guagua Bus Station, TITSA
Phone: +34 922 259 412