Valencia Bus Turistic is the perfect way to experience and enjoy the city of Valencia.

Visitors may discover the city in a comfortable double-decker bus with an unbeatable sound system that offers detailed explanations and information of the popular sights of interest in the city.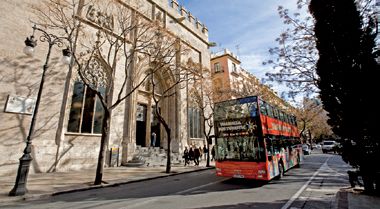 By using Valencia Bus Turistic, visitors are able to tour the Historical Centre and Valencia's main sights, Maritime Valencia or the famous Albufera Nature Park or Fallas. You are able to choose the route that most interests you.

The visits has two main routes that include the Historical Valencia (Route A) and the Maritime Valencia (Route B). The tour takes about 90 mins.

And for the the Albufera Bus Turistic (Route G); Albufera Nature Park visit; the tour takes about 2 hours.

The Valencia Bus Turistic departs from Plaza de la Reina in every 30 mins. Visitors may get into the bus on anywhere that the bus stops.
Tourist Information for the Valencia Bus Turistic
Address: Albacete, 19- 2ª 46007 Valencia, Spain
Phone: +34 963 414 400; Web: www.valenciabusturistic.com

Where Can I buy the ticket for Valencia Bus Turistic?
Tickets for Valencia Bus Turistic can be purchased from the Tourist Information Offices, any hotel in the city, at the bus or online from www.valenciabusturistic.com.

The tickets are valid for 24 or 48 hours depending the ticket kind and the purchase moment.

You may also get tickets on the bus for Bioparc Valencia, L´Oceanogràfic, The Hemisfèric, The Príncipe Felipe Science Museum.