Cala Ratjada Harbour

The harbour is one of the main attractions, where you can encounter a real life fully functional fishing port. Watch the fishermen as they unload their catch of the day, take a boat trip, or just enjoy the beauty of the harbor and try some of the delightful restaurants that serve fresh fish.


Castell de Capdepera


The castle is home a short distance from Cala Ratjada and is one of the most popular places to see while visiting. You will need to climb several steps to reach the top, but once there you will be immersed in a long history and be able to see the remains of the castle that was built in 1300 by King James II of Aragaon. The castle was built to protect the city from enemies including pirates. You will enjoy walking along the wall and enjoy the scenic view of the town below and luscious green fields.

Inside the castle, you will see an ancient church, Nostra Senyora de la Esperanca that is home to a 14th century wooden cross. The castle in open from 9.00-19.30 every day but close at 16.45 in winter.
http://www.castellcapdepera.com/

Segpark Cala Ratjada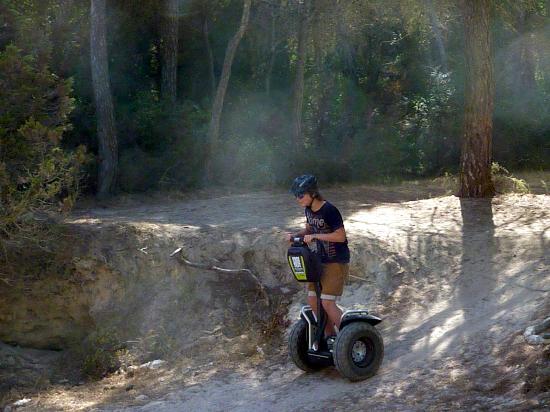 A family center that allows you to maneuver your way through different obstacles. The levels of experience are for beginners as well as pros. You will learn to handle your fears as you drive around. The parcour offers obstacles that you can reach via traffic circle, seesaw, stairs, bridges, gravel roads, cement roads, and even try a 360-degree turn.
http://www.segpark.es/en/

Cala Agulla Beach

When visiting paradise everyone wants to find that perfect beach. Cala Agulla Beach is that beach. The long beach is very clean and the sea is crystal clear. A large array of facilities is available as well as snacks and locals selling watermelons, coconuts, and pineapples. There is a restaurant as well that is affordable. Most visitors agree this is the most beautiful beach in the whole area.

Illes Balears Ballooning

Want a romantic time with that special someone? A ballonride for two above Majorca may be the best place to pop the question. The company has twenty years of experience providing balloon rides for groups as well as couples.
http://www.ballooning-mallorca.com/

Caves of Drach

These caves are certainly an adventure you do not want to forget on your itinerary. The underwater huge lake is a great place to take a dip and relax. You can either use a car hire and visit at your leisure or take a tour with a guide that can provide you with all kinds of information on the caves.
http://www.click-mallorca.com/excursions-tours-thingstodo/cala-ratjada/caves-of-drach-half-day/

Soller and La Calobra Island Tours

A boat tour from the harbour can take you to the islands where you will be able to enjoy a completely different view of the mountains as well as enjoy a break at la Calobra from a swim or go diving. The beauty of the coastline will be scenic views you will not soon forget.
You can check click-majorca.com. Do check out things-to-do-in-cala-ratjada for more information.